Ganesh Chaturthi Decoration Ideas for Year 2023
When it comes to big groups, the preparation of Ganesh Chaturthi Decoration Ideas 2023 begins a month before, and for home preparation, people start it even a day before but when famous statues like Lal Baugh Ka Raja have to be decorated it starts almost 3-4 months prior to the day of festival. It all depends on the budgets and the collection of the money which is done by the big Ganesh Chaturthi Decoration groups or at the lower stage by the local people.
Ganesh Chaturthi is a spectacular festival, honoring the birth of lord Ganesha. It is celebrated all over India, but maximum grandeur is witnessed in Mumbai and across Maharashtra. This year too Mumbai Kars with their undying spirit has left no stone unturned in welcoming their beloved lord Ganesh. Pandals across Mumbai are nowadays known to innovatively represent current social issues that the society faces and this output is been represented through different Pandals, paintings and even creating artful Ganesh statues.
Here are some Ganesh Chaturthi Decoration Ideas
Use flowers:
Flowers are a beautiful and traditional way to decorate for Ganesh Chaturthi. You can use marigolds, roses, jasmine, or any other type of flower that you like. You can make flower garlands, or simply scatter flowers around the Ganesha idol.
Use rangolis:
Rangoli is a traditional Indian art form that is often used to decorate for festivals. You can make a rangoli at the entrance of your home or in the puja room.
Use lights:
Lights are a festive way to decorate for Ganesh Chaturthi. You can use diyas (lamps), candles, or fairy lights. You can also hang up bunting or streamers.
Use fruits and sweets:
Fruits and sweets are traditional offerings to Lord Ganesha. You can place them in a basket or tray in front of the idol.
Use traditional items:
You can also use traditional items to decorate for Ganesh Chaturthi, such as a conch shell, a bell, or a lotus flower.
Get creative:
There are no hard and fast rules when it comes to decorating for Ganesh Chaturthi. Get creative and have fun with it! You can use whatever materials you like and come up with your own unique decorations
Here are some additional tips for decorating for Ganesh Chaturthi:
Choose a theme for your decorations. This will help you to narrow down your choices and create a cohesive look.
Use bright colors and festive patterns. This will create a lively and inviting atmosphere.
Don't be afraid to experiment. There are no wrong answers when it comes to decorating for Ganesh Chaturthi.
Make sure that your decorations are safe and fireproof.
The Pandals are one of the striking features of this festival. During this festival, community Pandals serve as temporary homes for the idol of the deity. This is also where devotees flock to join the celebration. The design serves both a religious and social purpose: half is decorated for the Puja, while the other half is designed as a venue for feasting, reunions, and sitting arrangements for devotees. It takes a day's worth of preparation to create these Pandals, so the community already makes them before the festival begins.
Thermocol sheets and colorful thermocol balls are very famous and most commonly used for Ganesh Chaturthi Decoration Ideas to build small temples or Pandals (mandaps) with decorative ribbons and lace borders are used for domestic preparation of Ganesh Chaturthi decoration. If you are short of time periods you can visit your nearby Ganesh Chaturthi decoration stores, where you can get a readymade temple designed beautifully crafted by the artistic designs, which can be a great deal of time and sometimes money too.
Where on the other side Ganesh Chaturthi Decoration Ideas for big groups requires a number of sponsors as they cover a huge area and themed decoration, lighting, and huge Ganesh idols all mean a large amount of money.
Here are some most famous Ganapati groups that can even give people a compulsory place to visit at the time of the festival as they have carried out a great name for the Ganesh Chaturthi Celebration and also decoration.
Lalbaugcha Raja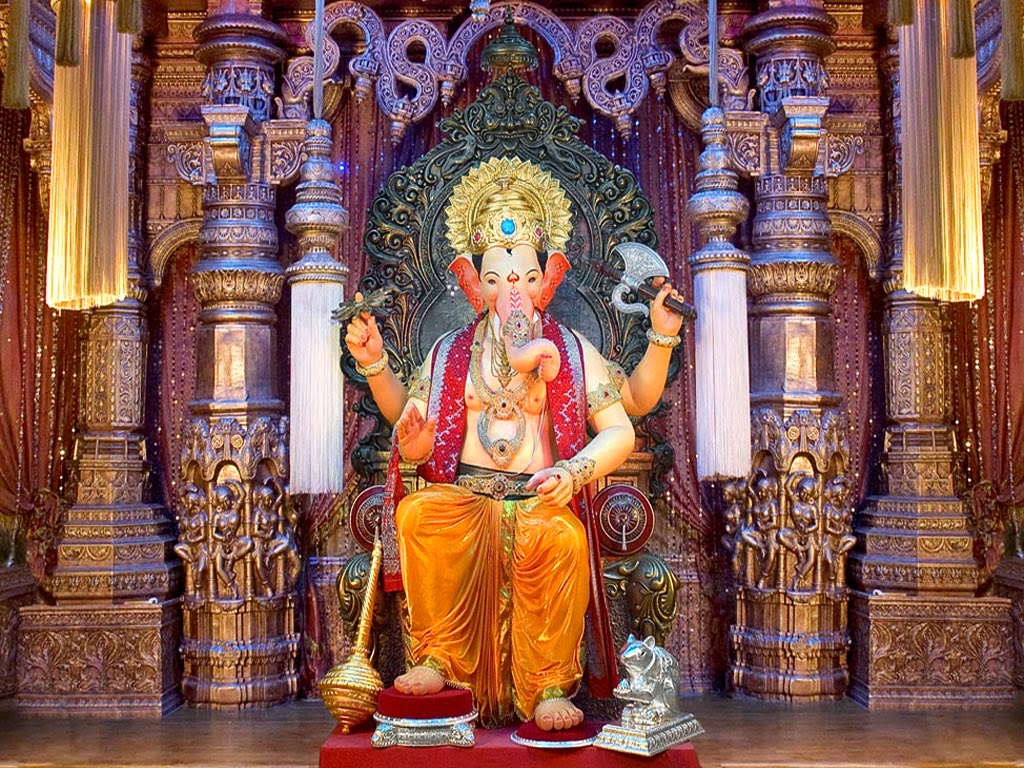 The Lalbaugcha Raja is undoubtedly the most famous Ganesh statue in Mumbai. The decoration of this pandal consists of a traditionally designed setup according to the Maharashtrian theme, there is a facility of air-conditioned area that has been started for the devotees who wait for Darshan of Ganesha. The small style of idol is made every year and it also has been patent protected now. Every year plenty of Gold and Silver ornaments are also used by this Mandali.
The GSB Seva Mandal's Ganapati Wadala
The first thing which you will notice about this Ganesha is that how it dazzles and glitters. The GSB Seva Mandal is a group of Gown Brahmans from Karnataka who arrange this festival to express their gratitude to the Elephant God for granting them with abundant grace. Magnificence is personified in this great pandal and the celebrations last for five days. There is no dearth of funds and therefore you will find that the idol is heavily adorned with gold jewels. Sitting on a throne made of more than 250 kg of silver and with a crown and other accessories of pure gold the Ganesha truly symbolizes prosperity to the core.
Chinchpokali Cha Chintamani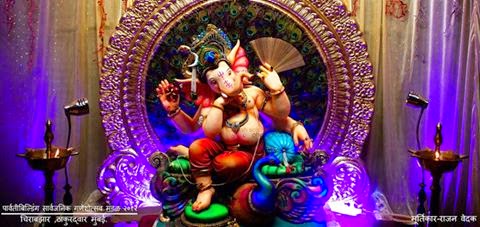 You May Like: Ganesh Chaturthi Gifts
Ever since the last century, Chinchpokali boasts of the biggest Ganesh celebrations. Step out of Chinchpokali station and you will find the mandap of the Raja of Chinchpokali. Once more seated on a throne with the symbol of royalty the idol at Chinchpokali is indeed Chintamani or the remover of all tensions and worries. One look at the Lord and you will automatically surrender your woes at his feet.
Shree Sarvajanik Ganeshostav Sansatha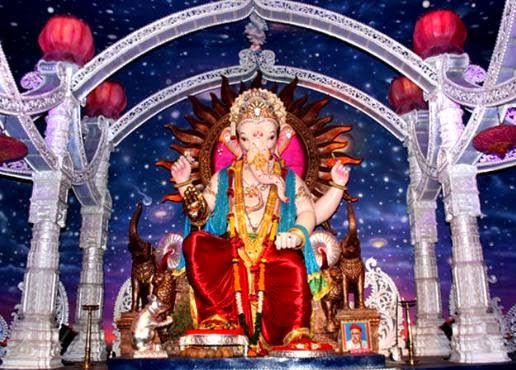 You may like: Ganesh Visarjan
One of the origins of Ganesh Chaturthi celebrations proving that old is gold is conducted by Shree Sarvajanik Ganeshostav Sansatha at the Keshavji Naik Chawl in Girgaum that lives up to its 118-year heritage. Instituted by Lokmanya Tilak way back in 1893, the first Sarvajanik Ganeshostav Mandal of Mumbai still hosts an Idol that is 2.25 ft. tall.